Caravan Towing Lessons North Wales
Due to popular demand, ABC are pleased to offer short caravan towing courses and lessons for people who have recently bought caravans. We are members of the National Trailer & Towing Association Ltd
We can offer tuition using Manual or Automatic Towing Vehicles
If you have a fairly sizable caravan that exceeds 3.5 tonnes (750kg) and you passed your driving test after January 1st 1997, then you will be required to pass a B+E driving test in order to legally drive your caravan.
This may seem an additional burden when you have bought a gorgeous new caravan and are keen to take it on holiday but apart from the legal requirements it is a good idea to have professional caravan towing lessons from qualified driving instructors. This is for your safety and the safety of others on the road. Driving any towed vehicle requires a rather different technique than driving a car without a tow, particularly a large caravan.
When you are towing a caravan, it can feel very different from driving an ordinary car. Your mass is greater, therefore your stopping distance is longer. Due to your increased length and the size of your caravan, your vision is more obstructed and reversing and parking have increased difficulty. Manoeuvring a towed caravan is also very different from performing manoeuvres in a car without a tow and many can find this stressful without gaining proper caravan towing training.
ABC have many years experience helping people to pass their B+E test and now we have developed specialist courses specifically to help those wishing to tow a caravan.
With our help you will soon feel confident and be ready to pass your caravan driving test with flying colours. Our caravan towing course is not only ideal for those new to towing a caravan but also makes a great refresher course for those who have not driven one for some time. Even if you did pass your caravan towing test before January 1997, it is a good idea to get to grips with towing a caravan in a controlled environment before you head out on the open roads.
Caravan towing training lessons from ABC will enable you to feel more confident in your abilities and this is one of the most important aspects to being able to pass your B+E test.
The car and trailer B+E test is based on the lorry driving test so it lasts for roughly 90 minutes. These test are conducted at vocational Driving Test Centres.
Our caravan towing training lessons will include all the information required for new caravan owners to help them get to grips with the essentials such as hitching, loading and reversing etc.
Let our experienced driving instructors help you to cover the basics before buying!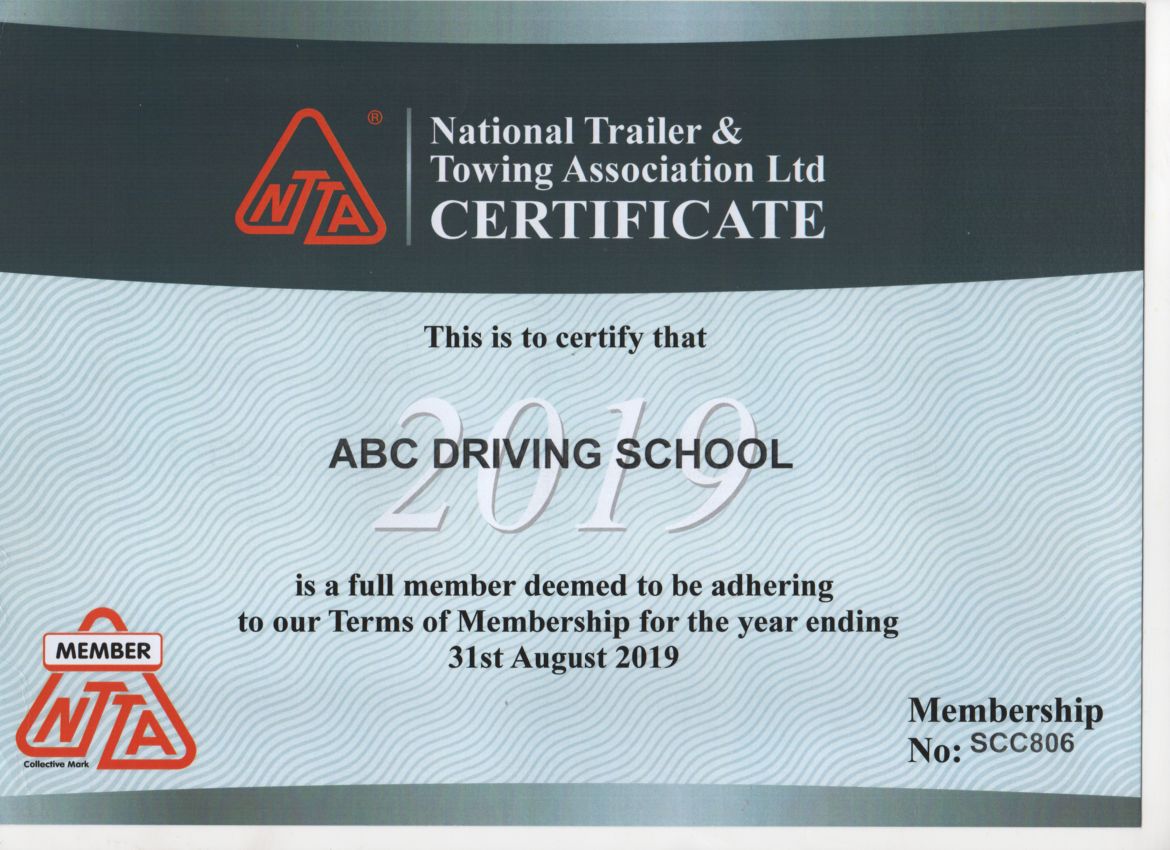 Contact us to discuss your requirements and discuss available dates or fill in our enquiry form
We can also offer Trailer Training and Horsebox Trailer Training courses if required.